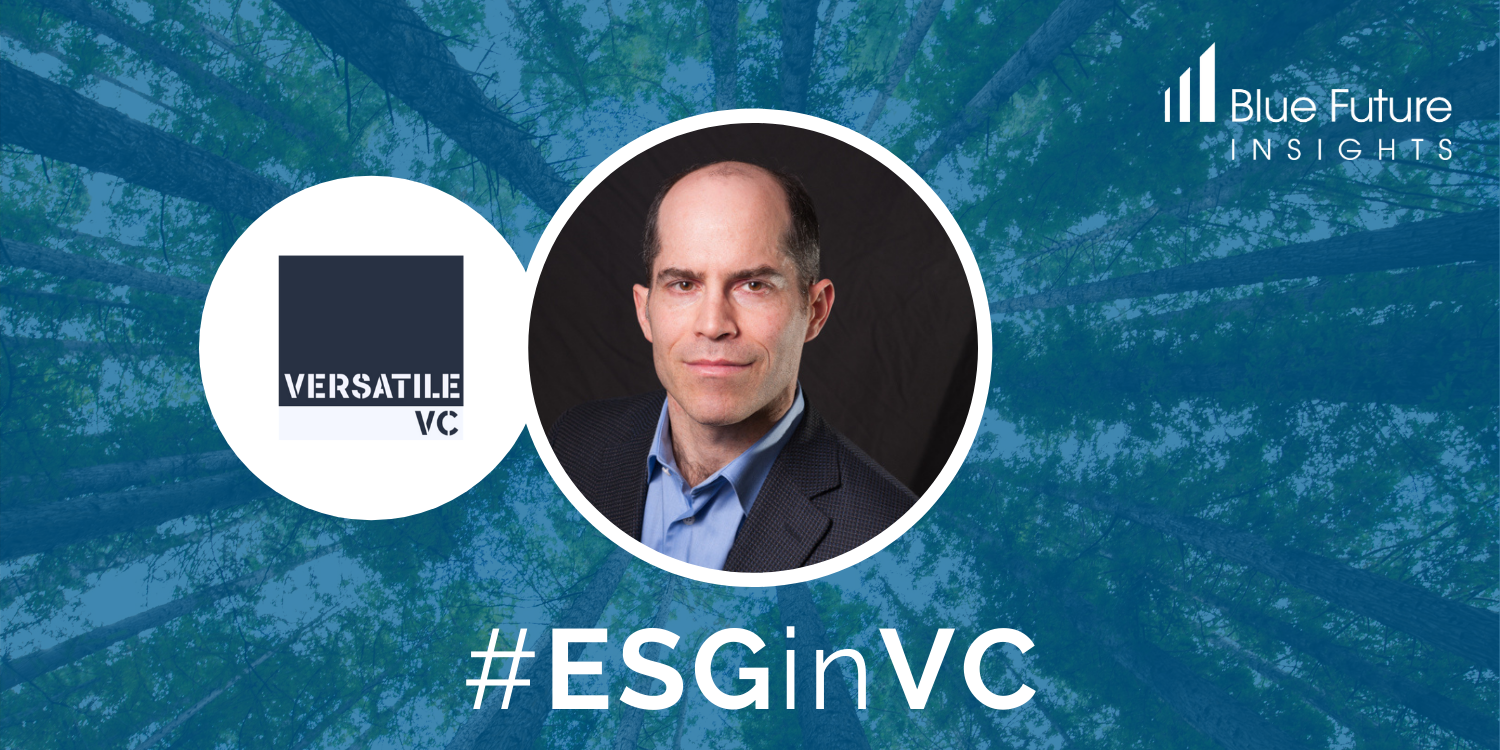 Blue Future Partners, a venture capital fund of funds, recently interviewed me on ESG in venture capital. Here's what I said:
In your career in tech and VC, how has your focus on ESG responsibility changed over time?
There's an old line from Victor Hugo: "If a man is not a [liberal] at twenty, it is because he has no heart, and if he is one at forty, it is because he has no brains." To some extent, I've followed the reverse path. 
Earlier in my career, I thought of myself as a libertarian and didn't spend many calories thinking about the ESG impact of my work. But then I had a family, and I realized that many of our biggest social challenges have no libertarian solution, and no one has built a functioning libertarian society. A lot of these challenges became grossly apparent in 2020: social instability, climate crisis, public health crises, national security crises, disinformation. If I don't think through the social implications of my work, then I'm free-riding on the hard work everyone else around me has done to make a liveable society. In the short run, I might make more money by ignoring all my social responsibilities. But in the longer run, the result is a dysfunctional society.
I see a clear cultural change happening in the investing universe, as more people pay attention to ESG objectives and apply an ESG filter to their investments. Bank of America has predicted $20T to flow in ESG investing strategies in the next two decades. For context, the entire S&P 500 is worth about $25.6 trillion. 
One of the impact initiatives I'm proudest of is founding Harvard Business School Alumni Angels of New York, a nonprofit and now the East Coast's largest angel group.  When we launched in 2010, I saw a white space: a burgeoning NY tech ecosystem, but only one angel group regularly writing checks. I quickly recruited a board of experienced hands. Many of my board members are still there, a decade later. 
In that capacity, I co-founded the Harvard Business School Alumni Angels Venture Capital Access Program, a joint venture with the National Association of Investment Companies ("NAIC"), which helps women and diverse entrepreneurs raise capital. We organized a series of HBS Angels pitch nights, joint with a range of affinity groups for HBS Alumni: HBS African-American, HBS Healthcare, HBS LBGT, and HBS Latino. In its first full year of operation, VCAP attracted 159 applicants. 34 went through VCAP committee screening; 17 went to an HBS Angels pitch night; 6 attended the annual NAIC convention, and 3 received funding from HBS Angels and/or other sources.
As an investor, my goal has always been generating returns. That said, a good number of my past investments have produced a very clear social benefit endogenously, i.e., as a direct result of their business activity. I highlight endogenous social impact because many of my portfolio companies might give money to charity or provide low-cost pricing to nonprofits, but that's not what I think of as an impact company; they're tacking on social impact on top of their core business, whatever that is.   
For example, I'm an investor via ff Venture Capital in:
– Plated.com  is a meal kit company, delivering you the recipe and fresh ingredients to make a gourmet meal in your own kitchen. They were sold to Albertson's for over $300m. Numerous thoughtful people are worried about how technological disruption will destroy jobs. The classical economist response is that technological disruption also creates new jobs, e.g., "video game designer". Some respond by saying the educated workers will be fine, but what are the new jobs for less-skilled workers, e.g., truck drivers replaced by self-driving trucks? Plated is a paradigmatic example of a company that is creating hundreds of  new jobs for lower-skilled workers: "remote food prep worker." This helps to replace the jobs lost as so many restaurants are going out of business due to COVID-19.
– SignUp.com is an organizing platform to quickly mobilize and coordinate people in their community, school, religious organization, or other social networks. Clients typically use it to create and strengthen local community initiatives: bake sales, barbeques, political organizing, etc.  
– Interaxon Muse sells a brainwave-controlled computing technology and applications, and a hardware/software platform that converts brain waves into digital signals for meditation, games, sleep improvement, and disability assistance. They have built the world's largest database of brainwave data, which can be used to help in treating ADHD, PTSD, and other brain disorders.  
– Owletcare develops and manufactures a wearable baby monitor "smart sock" that monitors oxygen levels and heart rate and alerts parents in case of an emergency.  They have saved the lives of dozens of babies.
– Indiegogo.com is a crowd-funding platform allowing contributors to empower hundreds of thousands of inventors, musicians, do-gooders, filmmakers – and many more – to bring their dreams to life.
 – Clarity.com proactively advises you on managing your personal finances efficiently. They are particularly valued by people living paycheck to paycheck, who often benefit from greater insights into where their cash is going. Goldman Sachs bought Clarity for ~$100m. 
Via HOF Capital, I'm an investor in :
– Arcus provides a two-way real-time API to provide one trusted, centralized, digitally-enabled banking experience. It provides users in emerging markets mobile access to their financial lives, who were previously typically not served by financial institutions. It is accelerating the inclusion of the unbanked and underbanked population into a formal, secure economy.
– Flutterwave provides an end-to-end digital payment infrastructure for Africans. Most of Africa runs on a cash economy, making it much harder to Africans to access credit, low-cost financial transfers, and other basic tools of a modern economy.  
– Forte has developed an innovative structure to finance vocational reskilling at no cost to individuals or governments.
– Starship Technologies sells an autonomous robot-powered local delivery service. Starship was launched by the co-founders of Skype. In light of COVID-19, demand for their safe, contactless technology has boomed.
– StratiFi is the first low-cost, intuitive, and scalable portfolio hedging SaaS platform for investors. They provide retail clients with sophisticated risk management tools that previously only ultra high net worth investors could access. 
Are you politically active? How do you leverage your VC expertise in politics?
Paul Graham, the co-founder of Y Combinator, wrote in a thoughtful essay:
"The defining quality of an ideologue, whether on the left or the right, is to acquire one's opinions in bulk. You don't get to pick and choose. Your opinions about taxation can be predicted from your opinions about same-sex marriage.…Accidental moderates, on the other hand, not only choose their own answers, but choose their own questions….It's possible in theory for one side to be entirely right and the other to be entirely wrong. Indeed, ideologues must always believe this is the case. But historically it rarely has been."
I'm an "accidental moderate", with a history of voting for and supporting candidates labeled Democrat, Republican, and sometimes other parties. Many years ago, I was Chairman of the only Jewish Republican PAC in the US.  However, in 2020 I joined Innovators for Biden and founded the campaign's Ambassadors at Large initiative. This is specifically a program to recruit CEOs, investors, and other business leaders, to help them use their superpowers to help protect democracy. We ask our Ambassadors: "Do you have access to a media platform? Does your business touch potential voters? Are you aware of the information that the media should know? Everyone can vote and donate, but what can you uniquely do to change the dynamics of the election?" I'm also incubating a startup, Action Tank, to help other NGOs accomplish their goals using their supporters' unique expertise.
Of course, reasonable people may differ with me about my (current) political views and have varying notions of ESG responsibility. However, my broader point here is that I think reasonable people should emulate Keynes, who said, "When my information changes, I alter my conclusions. What do you do, sir?"
Have you ever faced ethical challenges when investing? How have you handled them?
Who hasn't? I think the most common ethical issue in VC is when I'm talking with another possible investor in a portfolio company. For every company I've invested in, I can talk about why we invested. For most, I can talk about why I'm enthusiastic about investing more money. But for all, I can also talk about the concerns I have and reasons the company may fail. 
A key skill set in VC is working with other investors. CEOs come and go, but the other investors keep playing the game. So the ethical question is, how transparent should I be in discussing my concerns about a given company and its management?
My general rule is not to say anything I wouldn't say to management directly. In my dialogue with management, I'll typically share my concerns about the business and we'll work together to mitigate those concerns. Similarly, when talking with other possible follow-on investors, a common phrase I'll use is: "I'll tell you the same concern I already shared with management: I'm worried about…." 
In an article you wrote for Techcrunch in 2019 about Revenue Based Investing you mentioned that "traditional equity VC is biased structurally against some women and underrepresented founders". Why is that?
The Boston Consulting Group and MassChallenge, a US-based global network of accelerators, partnered to study why "women-owned startups are a better bet". BCG identified three primary reasons why female founders are less likely to receive VC funds:
Less need for a belief in breakthrough technology.

From the study: "More than men, women founders and their presentations are subject to challenges and pushback. For example, more women report being asked during their presentations to establish that they understand basic technical knowledge. And often, investors simply presume that the women founders don't have that knowledge."
Realistic projections.

"Male founders are more likely to make bold projections and assumptions in their pitches," BCG observes, while, "Women, by contrast, are generally more conservative in their projections and may simply be asking for less than men."
Concentration in consumer/branded products startups.

BCG reports that "Many male investors have little familiarity with the products and services that women-founded businesses market to other women"—especially in categories such as childcare or beauty. 
 What should VC leaders do to eliminate such biases?
You will never completely eliminate biases, which are another word for pattern recognition.  I try to train myself against committing a cognitive error, and adjust my thinking accordingly.
I have a strong bias to structurally color-blind/gender-blind solutions to social problems, as opposed to solutions that look at someone's race/gender/etc. and then make decisions. I am friendly with a number of VC funds that specialize in investing in women only, or only African-Americans, etc. However, I know many founders who happen to be women or African-Americans and who would rather not get capital just because they're in a certain demographic bucket. They want to raise capital because they are highly qualified, period.
One example of a structural solution is targeted outreach. I was previously a Partner at two different VC firms, neither of which had any contractual LP mandate to invest in diverse companies. However, both firms funded as founders more women, African-American, Latinx, and other underrepresented backgrounds than is the norm for the venture capital industry. The reason was that at both firms, we made targeted efforts to proactively market to communities of  underrepresented founders. The results were more diverse inbound deal flow, and which we assessed using a neutral filter. Once we decided to invest, we provided whatever support was relevant for a given founder. I am in the business of investing in world-class founders building world-class companies, and they don't necessarily have to be Ivy-league educated white men in hoodies.
Another example of a structural solution is the "alternative VC" or "Revenue-Based Investing" structure that Versatile VC frequently uses. My research has found that Revenue-Based VCs are disproportionately investing in women & underrepresented founders, despite not having (in most cases) any LP mandate to do so. I'd argue it's not that revenue-based investing is so unbiased and attractive; it's that traditional equity VC is biased structurally against some women and underrepresented founders. 
Traditional equity VCs are looking for high-risk, high-reward, "swing for the fences" models. The founders of such companies inherently are taking a financial risk, reputational risk, and career risk. The people who can afford to take those great risks are typically people with the greatest privilege in society. Paul Graham said, "few successful founders grew up desperately poor."  Ricky Yean, a serial founder, agrees: "building and sustaining a company that is "designed to grow fast" is especially hard if you grew up desperately poor". Most of the founders of the paradigmatic VC home runs were privileged: male, cisgender, well-educated, from affluent families, etc. Think Bill Gates and Mark Zuckerberg. That privilege makes it easier for them to take very high risks. The average person, worried about student loans and long-term employability, quite rationally is less likely to take the huge risk of founding a company. It's far safer to just get a job. 
Founders raising with a Revenue-Based Investing structure are not obliged to take as great risks, and so the structure is more attractive to people who come from a position of less privilege.
How are "alternative VC" models different from traditional VC in terms of ESG responsibility?
In addition to the point I made above about diversity, I will add that traditional VC is very wasteful. For many VC investments, the expected outcome is that a new company spins up, hires dozens or hundreds of people, and then shuts down. The VC gets a zero on one investment out of 50; they'll be OK. The founding team earned a good salary during most of their ride; they'll probably be OK. However, many employees took below-market salaries, got a zero for their equity, and now have an unknown, failed company on their resume. The alternative VC model is less likely to result in these outlier outcomes, causing less career damage to the employees who work for these companies. 
Which advice would you give to female and underrepresented founders looking for investments?
I'm hesitant to "mansplain" this answer. The real experts are not me, but the female and underrepresented founders I've backed.
Is Versatile VC an "impact VC? 
We don't define ourselves that way because we find that it confuses people about our goal, which is to maximize financial returns. That said, we think we will have a sustainable positive impact in three ways:
Invest in companies with direct social impact as a result of their core business activities.

I listed some examples above.

Invest in business models that otherwise could not access VC.

Less than 1% of all new businesses take investment from VCs. And of that 1%, less than 0.1% drive the bulk of returns for the VC industry. Yet, scalable technology and tools are finding their way into new and old businesses at an unprecedented rate. Our new financial structure is a way that many more founders can launch companies, even if they don't fit the filters of traditional VCs. We aim to build a double-engine launch vehicle that accelerates entrepreneurship while also increasing the success rate of venture-backed founders.

We proactively target founders who are from non-traditional backgrounds: women, racial minorities, top talent from less prestigious schools, etc. 

An investors' job is to invest in what others overlook.

We believe that at scale, we will help to reduce the racial and gender inequality our country faces, particularly in the tech startup ecosystem. Our unique financial structure is

disproportionately attractive

to women & underrepresented minorities.
At Versatile VC, we measure our impact through both traditional and impact KPIs. Traditional KPIs are, in descending order of importance:
IRR (and secondarily Multiple)

AUM

Firm revenues

Net Promoter Score from Founders we back

Net Promoter Score from Founders we reject

# investments we can make annually per FTE
Our impact KPIs are:
% of founding teams which are female/trans

% of founding teams which are underrepresented minorities (BIPOC)
What will you NOT invest in?  What are your red lines?
We particularly have interest in fintech, sales tech, and education technology. That said, we are wide open to other sectors.  
We do not invest in the following areas:
recreational drugs/alcohol; 

adult/NSFW content
One of our tests for a company is: would we encourage our relative to become a client of the company? If we have a relative with a drug addiction problem, and we invest in an addiction treatment company, we'll gladly encourage our relative to become a client. But we wouldn't proactively encourage a family member who is not currently a drug user to use drugs. That's why we can't invest in a company which sells recreational drugs.
For business reasons, we do not invest in:
initial coin offerings/SAFTs; 

Pure content, e.g., a movie, game, or TV series.